Eusoh reimburses veterinary expenses like traditional pet insurance, but it's more comprehensive at a more affordable price. The community works together to help one another for care, not help the corporate profits. The funds used for care are solely for care. Check out the community health sharing plan that reimburses your expenses.
In the past couple of years, French bulldogs have become extremely popular. Usually, people think that bulldogs are very big and very muscular, but this specific breed is small and cuddly. They look grumpy and it is very cute. You need to know what's the best dog food for french bulldogs to keep them healthy and happy.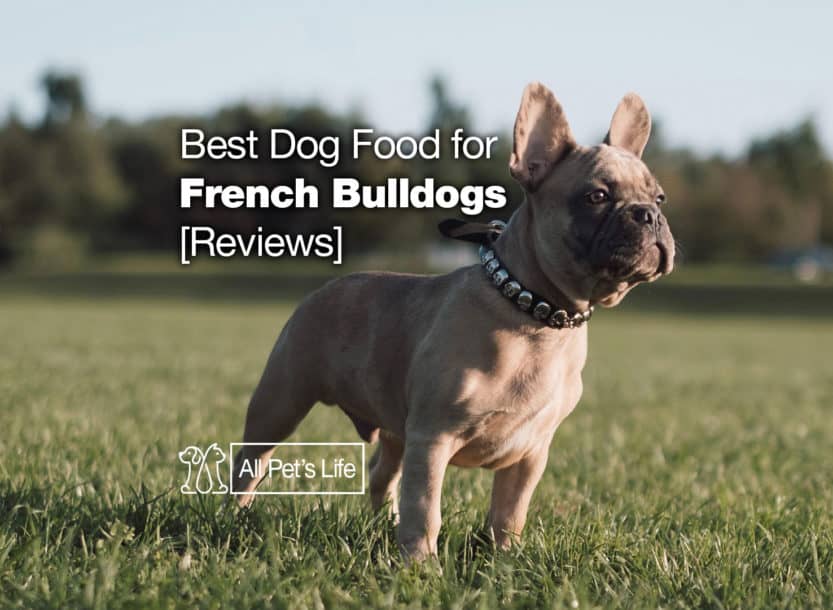 A lot of people are now getting French bulldogs. In 2013, French Bulldogs are in 11th place in the most popular breeds of dogs in the United States. After 3 years, they jumped from 11 to the 6th position. In 2020 they were number 2 in the US. They might not be the smartest dog breed but they sure are cute.
Since they only shot in popularity recently, many people don't have any idea how to take care of them properly. Different dog breeds would require different care and diet so you have to make sure that you know what you are doing.
The Best Dog Food for French Bulldogs
In this review, we analyzed different dog food brands and selected the best products. Below you can read an overview of each food product with pros and cons. If you already know what you need, click directly to products.
You should keep reading if you want to know about French Bulldogs and the optimum food that they need to grow strong and healthy.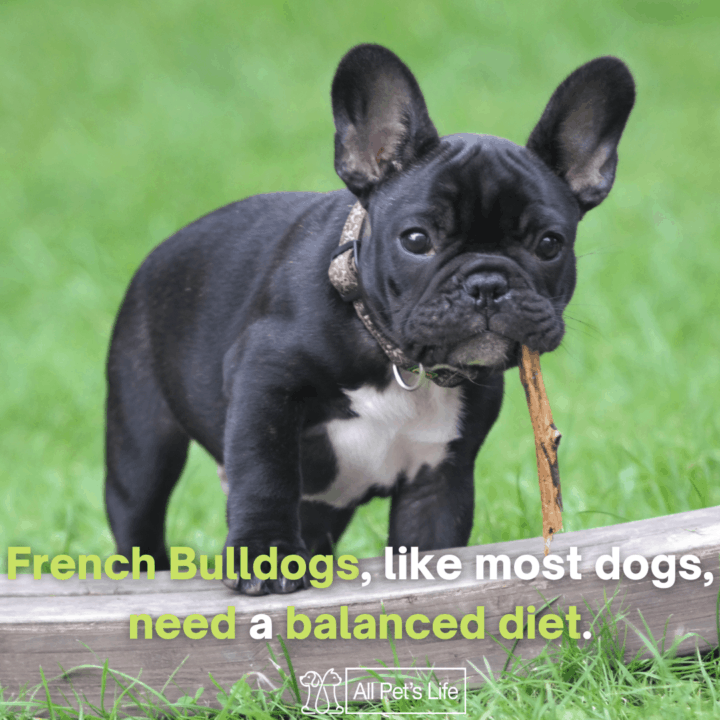 What is the Best Food for French Bulldogs?
When choosing the best food for your French Bulldog, you must consider his age. A puppy or a young dog will not have the exact nutritional needs of an adult French Bulldog.
French Bulldogs, like most dogs, need a balanced diet. They tend to put on weight because of their physical shape; they're not very athletic dogs.
According to the America Kennel Club, "Frenchies are prone to obesity, which can damage their physical structure and puts them at higher risk for some health issues."
So, the best food for French bulldogs is the one that covers all their nutritional and energetic requirements according to their stage of life. Essential nutrients such as:
Fatty acids provide energy and keep skin and hair healthy.
Fiber
Carbohydrates
Minerals
Proteins, which are necessary for growth.
Vitamins
Antioxidant supplements and more.
There are many opinions about giving French Bulldogs homemade food, wet food, dry food, etc.
Develop your dog's "Hidden Intelligence" to eliminate bad behavior and create the obedient, well-behaved pet of your dreams with the help of a professional CPDT-KA certified dog trainer. Check out the dog training system that took 10 years to perfect.
So let's answer common questions about what kind of foods your French Bulldog can eat.
Before we move on to a more detailed list of dog food brands for your French bulldogs, you should first know about the optimal diet of these dogs. Here are some of the things that you need to consider when looking for dog foods for French bulldogs.
1. Always check the Ingredients in the Label
You have to check the label first before you buy dog food, especially if you have a French bulldog. They might look sturdy, but if you made a mistake on the ingredients, they might become sickly.
For the ingredients, make sure that the first ingredient is whole meat. No matter what happens, the first ingredient should always be whole meat as it indicates that a large percentage of the dog food is made from a high-quality source of protein.
As long as the first ingredient is made from whole meat, then it is already a good start. You have to check all the other ingredients and make sure that there are no preservatives added. It doesn't matter what it is. As long as it is a preservative, you have to skip that specific brand and look for a different one.
2. Plant-Based Proteins
Fillers are very common in dog foods, but it doesn't mean that you will have to settle on cheap fillers simply because they are already included. You always have other options that would provide more vitamins and minerals to your dog food like plant-based proteins.
If you want to make sure that the fillers won't cause any allergic reactions to your dogs, you have to look for vegan sources. You have to find hypoallergenic proteins that your French bulldog will be able to digest and breakdown with ease.
3. Healthy Fats
Omega 3 fatty acids can help keep your dogs' coat and skin healthy and glossy. You can look for dog foods with coconut and fish oil. However, you should not look for dog foods with a high concentration of omega 3 as it might take up too much of the diet.
Ingredients of the Best Dog Food For French Bulldogs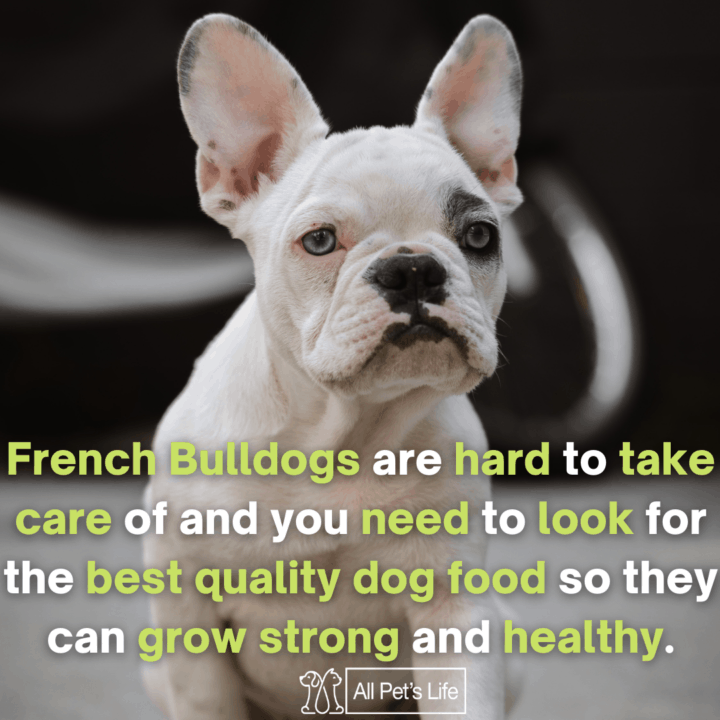 You have to understand the nutritional needs of your dogs if you want them to stay healthy and strong. Small breeds like French bulldogs have a different set of nutritional needs compared with medium and larger breeds. Here are some of the things that your French bulldogs might need.
1. A Good Source of Protein
All types of dogs, big or small, require a lot of protein. They need a high-quality source of protein to make sure that they can have a healthy body. You have to remember that the protein should come from meat as they easily digest meat protein compared with plant protein.
2. Fats are Needed
Your dogs need fasts as they would be the source of energy for your French bulldogs. It also adds more flavors to their food and provides essential fatty acids that can help with the skin of your dogs.
3. Carbohydrates – but not too much
They need carbohydrates on their diet because it is a good source of probiotics and prebiotics. However, it is not good to find dog food with a lot of carbs. You need protein-based dog food and not focused on carbohydrates.
4. Fiber
Your dog needs fiber along with carbohydrates to help with its digestive system. Although dogs can eat almost anything, they have a weak digestive system so they need a lot of fiber to help keep their tummy healthy.
Important Facts About French Bulldogs
It's great that you know what they need to eat and the ingredients that you need to look for in their dog food, but do you understand French bulldogs? Here are some of the things that you need to know about this breed of dog.
1. Puppies Grow Fast
French bulldog puppies grow fast and they also reach maturity early. Compared to some larger dogs, they have a faster metabolism so they would require more calories for every pound of weight. They also need a lot of fat and protein for their daily activities.
2. They have a Small Stomach
Well, these dogs are small so they tend to have a small stomach, but compared to other smaller dogs, it is quite small. Also, this type of dog requires a lot of calories even as a puppy and their small stomach won't be able to accommodate their needs.
Because of this fact, you will have to feed your puppy at least three to four times a day until he reached 6 months old. After this, you can start and cut down their meals to three meals per day.
3. The Best Dog Food For French Bulldogs has Smaller Kibbles
Your French bulldog has a smaller mouth so the kibbles should be smaller as well. Don't make the mistake of giving them bigger kibbles as they might choke because of this. If your dog loves the big kibbles that he is eating, look for the same brand with smaller kibbles.
4. Don't Let Them Be Overweight
French bulldogs are prone to obesity. Most dogs are. You have to be very careful when you are feeding them since they require a lot of calories. There is a big chance that they would become obese.
You have to measure the amount of food you are giving your dogs and make sure that you count the calories. You also have to bring them out more often so they can stay healthy and slim.
Top 5 Best Dog Food For French Bulldogs
Now that you've understood your French bulldogs and you already know what to look for in their dog food, the final part of this article will focus on the different branded dog foods that you can feed them.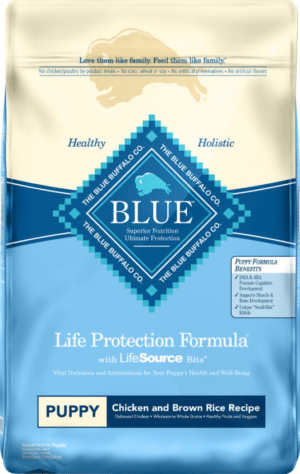 Blue Buffalo Life Protection Formula is designed to provide the nutrients needed by smaller dogs. It also contains a wide range of vitamins and minerals to keep them healthy and strong. If you have a French bulldog, this is one of the dry dog foods that you should consider.
The Blue Buffalo Life Protection Formula comes with a good amount of calories, proteins, and a low amount of fat. This formula is also popular for its 4:1 ratio of omega 3 and 6 fatty acids. This formula is meant for small dogs that are already too fat as it contains a good amount of calories and protein.
French bulldogs need a lot of fat and protein, but this formula is already enough to supply their needs.
What to like about It
The thing that you will surely love about Blue Buffalo Life Protection Formula is its high fiber content. Since French bulldogs have a small stomach and they are prone to bloating, you can consider this dog food as a solution for it.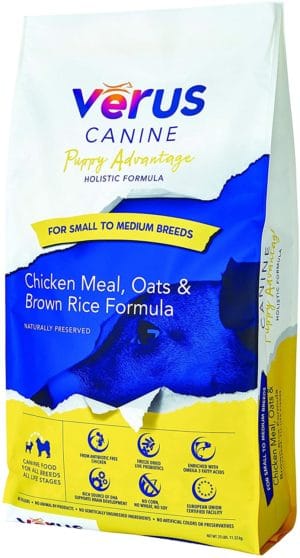 French bulldogs love to eat meat and you need something that has high protein and very easy to digest. VeRUS Puppy Advantage Chicken Meal is definitely what you are looking for. This dog food is very easy to digest and it is a holistic food made for small breeds.
This dog food formula contains DHA that would help with the development of the brain of the puppies and it contains probiotics that would help with their digestion. It also filled with omega 3 fatty acids, vitamins, and minerals to keep your dogs healthy and strong.
This dog formula is free from any kind of unhealthy chemicals and additives so you won't have to worry about anything else.
What to Like About It
The best thing about VeRUS Puppy Advantage Chicken Meal is that the protein percentage is about 23% with 15% fat. This is a good ratio because it has more protein. The fat is a bit high, but this just fine, especially if your puppy is still growing.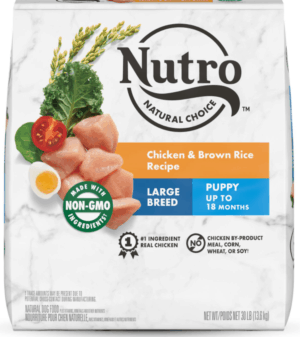 Nutro Wholesome Essentials Natural Puppy Dry Dog Food is popular dog food for French bulldogs as it contains a wide range of health benefits. It is made precisely for small breeds and it is a dog formula that is meant to provide the exact nutrients and minerals that they need.
This is also made with omega 3 fatty acids such as DHA that would help promote the development of their brain. It also has other health benefits like building strong joints and bones through calcium. This dog food formula contains calcium so it is perfect for dogs with a smaller body.
It is made with non-GMO ingredients so it is perfectly safe.
What to like about It
The most important thing that you should know about this dog food formula is that it is made with a lot of protein and meat sources. It means that this dog food formula is packed with protein to help your French bulldogs grow strong and healthy.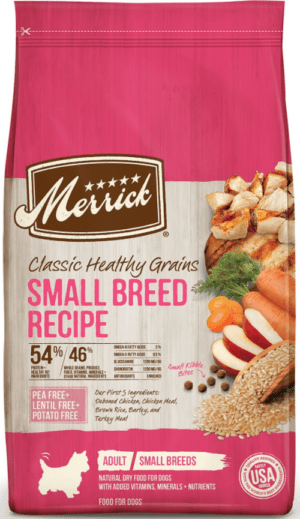 Merrick Small Breed Recipe Pet Food is a classic dog food formula and it is one of the most popular because many people have been buying this for a long time. All of them made amazing reviews about this dog food formula and their French bulldogs love the taste.
The first ingredient of this dog food is deboned chicken, which is a good source of protein for your dogs. You have to remember that meat should always be the first ingredient. It is packed with fiber and whole grains including brown rice, barley as well as quinoa. You don't need to worry because it only has enough grains to provide for the needs of your dogs.
What to Like About It
One of the best reasons why you have to buy this is the good amount of omega 3 and 6 fatty acids as well as glucosamine present in this dog food formula. This will help keep the skin and coat of your dogs healthy and shiny.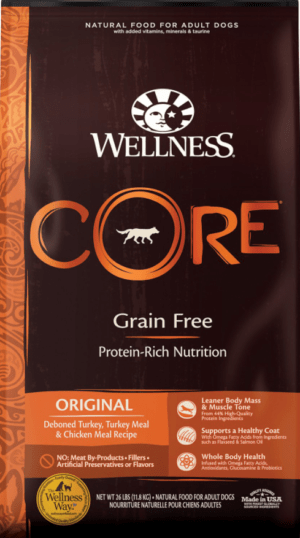 If you are looking for the ultimate dog food for your French bulldog, Wellness Core Natural Grain-Free Dry Dog Food is your top pick on this list. It is grain-free and a high level of protein, carbohydrates, and fats. There is no corn, wheat, soy, or meat by-products. It means that all of the ingredients are all-natural and high quality.
This formula is packed with high-quality animal proteins and it will provide a delicious taste that your French bulldogs will surely love. It will also provide visible benefits like making their coat and skin healthy and shiny.
What to Like About It
All of the ingredients are high quality and it is 100% made in the United States with globally sourced healthy ingredients.
What is the best dry dog food for Bulldogs?
The best food for French Bulldogs should have vitamin C, vitamin E, flavonoids, and omega-3 combined with omega-6.
But, it should not affect his weight to any great extent, harm the health of his legs, or hinder his daily movement.
The best dry food for French Bulldogs is Royal Canin French Bulldog. These foods are studied and formulated for them, considering their morphology and characteristics.
Royal Canin French Bulldog Junior is the best food for French bulldog puppies. It is a complete food that balances the intestinal flora.
It also and provides vitamins, minerals, and nutrients in general.
Once our French Bulldog is an adult, its diet can be changed to Royal Canin French Bulldog Adult. It keeps the ideal muscular mass of your French Bulldog as it contains 26% of proteins and L-Carnitine.
The French Bulldog's tendency to allergies should also be kept in mind. Grains such as corn and soy often cause the dog to develop skin irritations and seborrhea.
For this reason, you should read the ingredients on the label carefully, as corn is such a cheap ingredient in dog food production.
You should avoid the products designed for large breeds as the pieces are just too large for they mouths.
Should I feed my French Bulldog wet food?
Yes, wet food is often very palatable, and they are suitable for French bulldogs. As their sense of smell is significantly compromised due to their facial structure.
This type of food is easier to digest and chew and keeps dogs hydrated. It is best for dogs that cannot chew well, are sick or older dogs.
For the most part, this type of food provides the dog with a series of quality nutrients necessary for its healthy growth and development.
Since French bulldogs are prone to rheumatism and arthritis as they age, it is best to feed them a diet that concentrates on muscle maintenance.
Also, wet food is one of the best foods for French bulldogs with allergies. Wet food is a great alternative and is even more appealing to them.
Yet, experts consider that using one or the other type of food is not 100% effective. Hence, to give the dog adequate feeding, both wet and dry food should be alternated.
Is chicken bad for French bulldogs?
It depends. Some French bulldogs may be allergic to chicken. If your dog does not have allergies to this food, it can be a very healthy option.
But in general, chicken meat from the thighs or breasts is suitable for dogs. It contains a vitamin b group, which helps to develop the immune and neuronal system and tryptophan. This offers an antidepressant effect on any living being. If you gauge their reaction then chicken just might be the best dog food for french bulldogs.
However, the skin of the chicken is almost entirely fats, so it is not recommended in the dog's diet.
Also, it is not advisable to give the dog chicken bones as they can cause accidents. Such as choking or can splinter and cause internal injuries.
To know if the chicken is bad for your French bulldogs, when offering it to your dog for the first time, do it gradually.
Then watch for any symptoms like dry and itchy skin, ear infections, inflammation, and vomiting. If your dog shows these reactions, contact a veterinarian immediately.
What human food can French bulldogs eat?
We must be careful when choosing the best food for our French bulldogs. As they can be allergic to different components contained in the food we eat.
These are some human foods that French bulldogs can eat, according to frenchiewiki.com: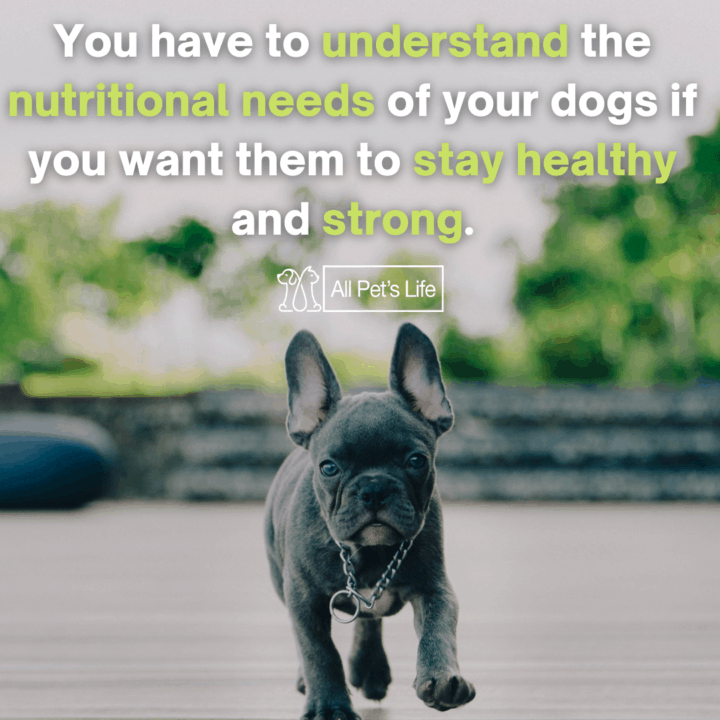 Salmon: contain omega-3 fatty acids.
Chicken, turkey, and beef: source of protein.
Tuna: contain omega-3 fatty acids.
Yogurt: high in calcium and protein.
Oatmeal: an essential source of soluble fiber.
Pumpkin and sweet potatoes: contain fiber and beta-carotene (a source of vitamin A).
Egg: provide digestible proteins with riboflavin and selenium content.
Green beans: source of vegetable fiber, vitamin K, vitamin C, and manganese.
Sweet potatoes: it has dietary fiber, vitamin B6, vitamin C, beta-carotene, and manganese.
Fruits that French bulldogs can eat:
Apples
Bananas
Blackberries
Blueberries
Broccoli
Brussels sprouts
Melon
Carrot
Celery
Blueberries
Cucumbers
Green beans
Mango
Oranges
Peaches
Pineapple
Peas
What foods are bad for French bulldogs?
According to frenchbulldogowner.com, these are some human foods that are bad for French bulldogs:
Avocado: Contain a substance called persin, which can cause diarrhea, vomiting, respiratory distress.
Onion and garlic: Contain thiosulfate, which can cause the development of anemia.
Grapes and raisins: they are toxic and can cause poisoning.
Sweets: cause obesity, dental problems, and diabetes.
Salt: Excess salt can cause excessive thirst, vomiting, dehydration, and convulsions. To avoid dehydration, carry a travel dog water bottle.
Alcohol: causes liver and brain damage in dogs.
Caffeine: its substances can cause vomiting, hyperactivity, tachycardia, and even death in dogs.
Chocolate: contain theobromine that can cause nervous system damage, allergy, arrhythmias, and more.
Fats: Produce damage to the pancreas.
Yeast: It is toxic in the stomach of dogs, expanding into the intestine and causing gas and respiratory problems.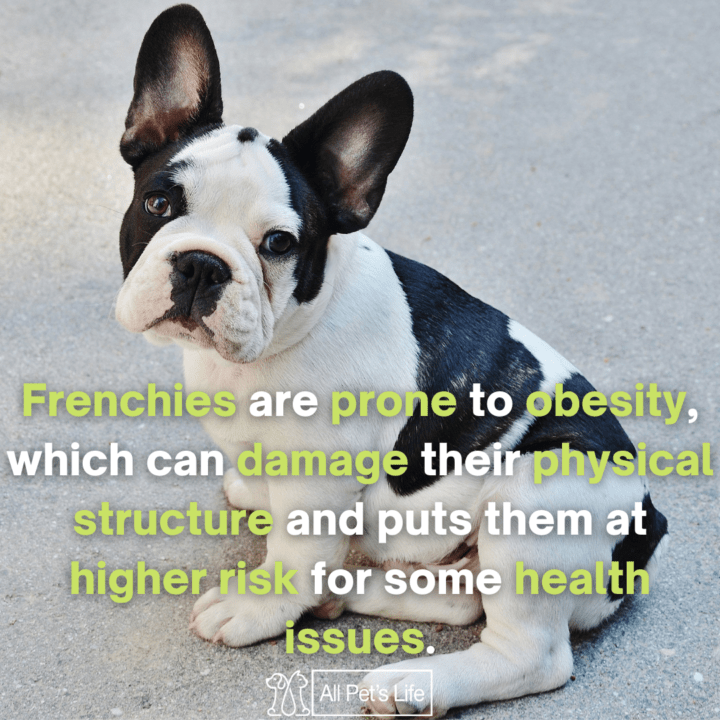 Other foods that are bad for French bulldogs are:
Bones
Milk
Nuts
Cherries
Mushrooms
Spicy food
Brussels sprouts
Swiss chard
Orange
Raw egg
Lemon
Commercial ice cream
Pomegranate
Cheese
Fermented doughs
Xylitol
Now you are ready to get the best dog food for french bulldogs
Looking for the best dog food for french bulldogs might be a bit daunting, but if you will follow this guide, you won't make a mistake. Always remember that this type of dog breed is hard to take care of and you need to look for the best quality dog food so they can grow strong and healthy.